Worthington's Choice
For Dental Implants
Our team consists of a periodontist and two prosthodontists,
Dr. John Duckworth,
Dr. Mohamed Abdelhamed,
and
Dr. Richard Cunningham.
All are highly esteemed in their respective fields and are committed to helping you with all of your dental implant needs. A periodontist is a formally trained surgeon specializing in surgery of the gums and oral tissues. A prosthodontist is a formally trained dentist specializing in advanced restorative procedures such as dental implant restorations. We are committed to finding the right implant treatment option for you and keeping you comfortable and happy throughout the entire process. Our facility is tailored for your convenience in our spa-inspired atmosphere with our on-site certified dental laboratory.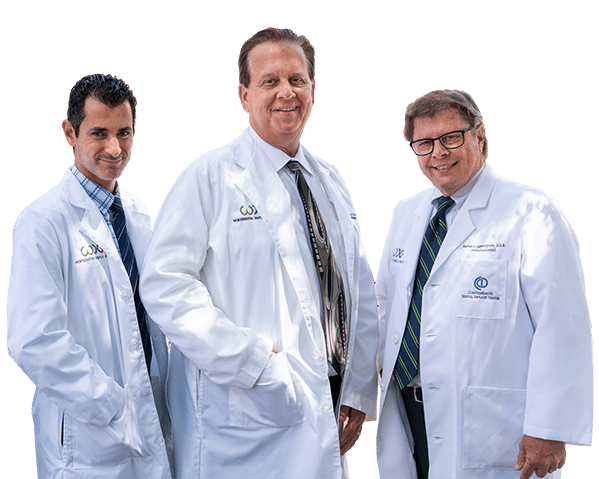 The Comprehensive Dental Implant Center is unlike any other dental practice in central Ohio. While we can tell you about our specialists and technology, we feel that photos are the best way to envision the patient experience we offer.
Discover the Comprehensive Dental Implant Center
With more than 100 years of combined experience and service to our patients, our highly skilled staff paired with our innovative dental technology and talented specialists take pride in providing predictable and successful care.
1975
The Beginning
Drs. Nick Huston, Bert Lash, and Robert Tootle were pioneers for dentistry in Central Ohio. Dr. Richard Cunningham had the privilege of working with them after completing dental school. Their influence and leadership helped pave the way for the creation of Worthington Dental Group and CDIC.
1985
Private Practice
Dr. Richard Cunningham, a licensed prosthodontist, opens his own private practice to serve members of the Central Ohio community. His practice later becomes known as "Worthington Dental Group," because it encompasses specialists and general dentistry in one location.
2015
The CDIC
Dr. Cunningham unveils the Comprehensive Dental Implant Center after years of advanced training and education on tooth replacement. The CDIC is comprised of his team of dental specialists, lab technicians, and the on-site laboratory.
2016
Patient Experience
With the continued success of the CDIC, Dr. Cunningham continued to invest in the overall patient experience. From an in-house Starbucks coffee bar to televisions in every operatory, patients are the focus of the CDIC.
2018
Renewed Focus
As the Comprehensive Dental Implant Center continued to flourish and meet the needs of the Central Ohio community, Dr. Cunningham knew it was time to make the CDIC its own entity. It is unlike any other dental practice in Columbus. Our team looks forward to providing you a complimentary consultation and carefully coordinate your dental implant treatment with our highly esteemed team.